Paul Farmer's 10 years at thexton armstrong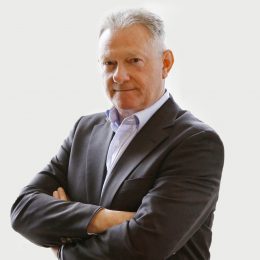 Anniversary – Paul Farmer's 10 years at thexton armstrong.
This year, the team is celebrating Paul Farmer's 10-year anniversary at thexton armstrong.
Founder Coen Vleesenbeek reflects: "Paul was the first franchise partner to join thexton armstrong in the Netherlands and has always been a great member of the thexton armstrong team. Always positive, always contributing."
The Dutch team celebrated his anniversary at their quarterly partner meeting in March. This was a great opportunity to reflect on Paul's achievements.
On behalf of thexton armstrong Netherlands, Paul received a beautiful bouquet of flowers and a fitting statue. Benny Schulte and Tijnis Verhoeff, Master Franchise Partners, said: "With this statue, we would like to thank Paul for his positive contribution to the development of thexton armstrong. This statue symbolises the mutual support that we as partners at thexton armstrong give each other and it couldn't be more fitting than to award it to someone like Paul. Paul, thank you and we hope for many more wonderful and successful years together!"
Below, Paul reflects on his time with thexton armstrong with a few memories and insights.
Do you have any fond memories of a special client?
Yes! After a year of working together with a favourite customer, my client said to me: "When we started out and made all those ambitious goals for the year, I sometimes really thought you were crazy. But the results we achieved together are far beyond all expectations!" That was a very proud moment for me.
Which insights has thexton armstrong brought you?
It has given me many great insights, but one in particular: the added value that our personal vision brings to our clients. After all, if you don't have a vision that you can reach through goals, you will never achieve it! Oscar Hammerstein II put it well: "You gotta have a dream. If you don't have a dream, how you gonna make a dream come true?"
What does this statue mean to you?
It has two characters in it, one climbing the ladder and the other holding it firmly. Over the past 10 years, there were times when I was also climbing the ladder and received support from thexton armstrong, both from the franchisor and from my colleagues, holding my ladder at the other end. Thank you all very much for that.