Exploring the entrepreneur's journey: Actionable insights to set SMEs up for succes – Part 3 – the Scale-up phase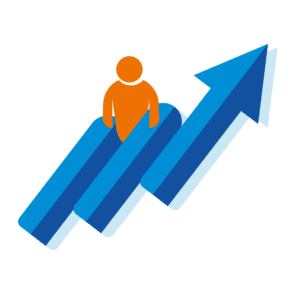 Exploring the entrepreneur's journey: Actionable insights to set SMEs up for success (part 3):
This post series shares our hands-on insights into the 4 key phases of the entrepreneur's journey. Tracking founders' trajectories as they reach goals, face (un)expected challenges and hit some inevitable brick walls.
This week, we're asking: Are you ready for the toughest time that SME entrepreneurs ever face?
The Scale-up phase
It's the Scale-up phase. By now, barriers to growth should have been resolved. But this is when founders' visions and core values — the essence that has brought their business idea this far — are no longer enough to see it succeed.
Now, they need to bring in a reliable, trustworthy and experienced management team. This will enable them to delegate decision-making and collaborate to solve growth barriers.
Getting this right comes with a risk! The previous phases all focused on the customer. But successfully navigating these challenges now also requires focusing on the internal organisation. Client focus is still important but no longer exclusively the top priority. As a result, it can suffer somewhat.
There are a few things to look out for in this phase, as these problems will slow you down as you aim to scale up (and might even push your business back to an earlier phase!):
Inconsistent goals or goals that are not aligned
Founder leaving the business
Management team members come and go
Unclear leadership
Mistrust
Internal politics
And a few elements are crucial to success in this phase:
Establishing clarity on who is responsible for making decisions, about what and when
Rules and well-aligned goals must be lived, breathed and respected within the business
Valuing creativity and innovation, without letting them waste resources
Functional systems, policies and procedures
Predictability and growing sales
Do this right and you'll be ready for the next phase, known as the Flow phase (more on this on our website).
Are you interested in joining and growing the thexton armstrong business mentoring franchise ?
Request information here: Information Pack 
Last time we took a look at the Acceleration phase. Missed it? Read it here.